TM monitoring or Trademark Watch is an important step once you acquire a trademark for your company. It is a precautionary measure that keeps your Trademark secured from infringers. People by now know the centrality of a trademark for a brand. It is difficult for a brand to survive without a trademark in the current market. A trademark in the form of an image/symbol and/or a peculiar name works as an instant source of identification for a brand.
Major Benefits of TM Monitoring
Your trademark is an asset that not only identifies your brand but also makes it legitimate and increases its market value. Customers identify your products by the trademark of your company. Therefore, the perpetrators out there try to infringe upon your trademark and try to sell fake products. This ultimately degrades the name of your authentic brand in the market. Think about all the efforts and investments made going in vain.
Hence, in order to maintain your credibility, time-to-time TM monitoring is important to prevent similar trademarks from coming in the market.
An efficient trademark watch ensures:
A global TM search for identifying counterfeit marks that might harm brand reputation.
Ensures that others are not using your brand's symbol, name, color, etc.
Finds not only visibly but also phonetically identical trademarks.
Tools for Trademark Monitoring
TM monitoring is a way of keeping an eye on your unique trademark in order to maintain its enforceability. Therefore, only registration of the trademark won't help if not followed by persistent trademark monitoring. For doing so many efficient tools are there to provide you with this service. These include:
AdWords:
Google AdWords or AdWords Key Planner allows clients to scan terminologies. The Google AdWords relates to online advertisement whereas, the key planner looks for terminologies of the web traffic. First, look for the keyword in Google Adwords to see if anyone is using your or a similar trademark. The next step is to look for it in the keyword planner to check the number of individuals looking for your trademark.
Google Search:
It is also an easy approach to find your trademark. You simply need to type your trademark in the Google search bar. If your trademark is a design, you can look for it on Google images. Although it is an easy approach, it will consume a lot of time for performing a thorough approach. Hence, you as an entrepreneur can go for a third-party professional help as this will save a lot of time and will provide trusted results.
Google Alerts:
As the name suggests is a tool that helps you to set up periodic automated search results. It sends notifications on your email address whenever it comes across similar and/or new content that you are looking for.
TESS:
The USPTO offers a search system known as The Trademark Electronic Search System or TESS. It is a computerized search system that enables you to perform trademarks search based on different variables. You can simply add terms and pictures to produce results. It is also a TM monitoring tool as strong as a Trademark Search tool.
Madrid Monitor:
This System allows you to monitor International TM applications and trademarks that are already in use. Moreover, at Madrid Monitor, you can find simple, advanced, real-time and image search modes for complete search results.
TM Watch Services:
Last but surely not the least; you can hand-off the TM watch to a trusted professional. In this scenario, a TM professional performs TM monitoring for you. Through this, you can save your valuable time and receive globally searched monitoring results.
Why Trust The Trademark Watch Company?
The enforceability of your Trademark is in the hands of trusted professionals at The Trademark Watch Company. Dedicated teams for TM Monitoring and TM search, provide you best of the services across the borders.  We generate results in the form of computerized reports, sent to our clients to their registered emails. Customer satisfaction is of paramount importance to us. Hence, we provide quick turn-around-time with iterations for client gratification. You can also check the trademark search and monitoring sample reports at TTWC.
Other Related Articles:
Benefits of Trademark Monitoring Service
Trademark Fundamentals for Start-ups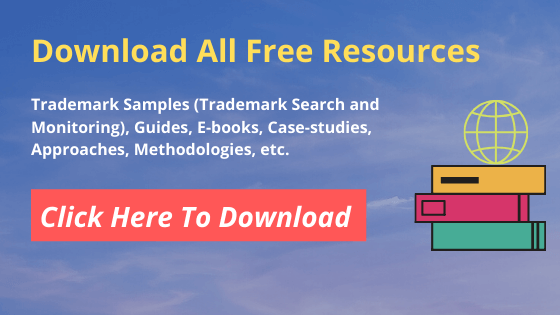 Here You can Download All Free Resources
Trademark Samples (Trademark Search and Monitoring), Guides, E-books, Case-studies, Approaches, Methodologies, etc.