Being a trademark holder, it is important for you to have knowledge about trademark monitoring fundamentals. Trademark monitoring is an indispensable step to defend the trademark rights. An effective trademark monitoring strategy not only avoids your trademark loss but also prevent loss to your business. Moreover, it avoids the enforcing ability damage against infringers. So, let's discuss effective trademark monitoring fundamentals.
Importance of Trademark Monitoring Fundamentals
Trademark monitoring facilitates a notification to the trademark owner if any similar trademark is registered. The major reasons due to which businesses must have trademark watch service are:
To avoid loss of the business
To retain a monopoly on name or logo of the business
In order to prevent enforcing ability damage against infringers
To prevent trademark rights damage
For example, we can consider a trademark named "KYAN." Now, it is a problem for another company having the trademark "KYANOH" because the company requires to put extra efforts to increase their brand visibility. Otherwise, it may create confusion among their potential customers due to the similarity in the sound.
Related Articles: Benefits of Trademark Monitoring Services 
Trademark Monitoring Fundamentals:  What type of Service does it include?
Using online tools trademark monitoring can be done by own. Here are some major tools available online that are used by both experts and beginners for trademark monitoring:
Trademark Monitoring By Own:
TESS:
It is a Trademark Electronic Search System with the automated platform used to find infringement cases. Factors such as class, terms, categories, etc. are used for searching on the TESS portal.
Google Search:
It is one of the best platforms for trademark monitoring. For monitoring, you need to find potential infringers to your trademark. In order to search you can upload an image or icon of your trademark in the Google image search function. Simultaneously, you can search on Google in the search bar.
Note: This method of trademark monitoring is quite hectic and time-consuming.
Google Alerts:
It is a convenient method of trademark monitoring. Using Google alerts you can simply set an automatic search through which notification will come up on finding any trademark infringement.
Keyword Tools:
Google provides online service for both advertisement and web traffic via Google AdWords and AdWords Keyword Planner respectively. To confirm if anyone else is using your trademark Google Adwords can be used. However, Adwords Keyword Planner can be used to know the people strength that is actually searching for your trademark.  The tools are helpful in ensuring whether anyone else is using your trademark. But, it does not give a complete idea about the identity of the infringer.
Related Articles:  Global TM Search: Strategies and Advantages
 Third-Party Trademark Monitoring :
In safeguarding brand identity, trademark monitoring plays a significant role. There are many organizations that do not only take trademark search service but also avail trademark monitoring service. The objective of the service is to stop the misuse of the brand you have built with efforts.
Why Choose The Trademark Watch Company?
We, at The Trademark Watch Company, have a team of techno-legal experts who strive to stop infringers from misusing your brand. Our service has the most flexible and widest coverage to keep a vigilant eye on every trademark filing going in multiple countries. Do give a visit to know how things work and make a little inquiry to find our trademark monitoring search samples.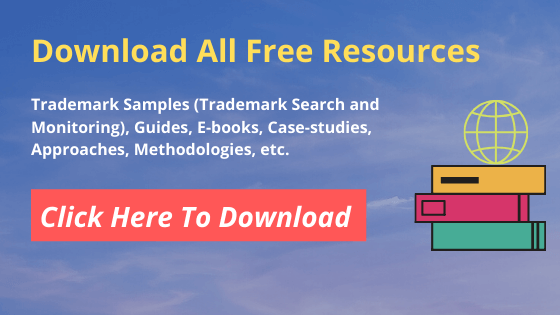 Here You can Download All Free Resources
Trademark Samples (Trademark Search and Monitoring), Guides, E-books, Case-studies, Approaches, Methodologies, etc.