Trademark monitoring process is nothing but all the steps that we should follow in order to keep a watch on our trademarks.
To begin with, even if you have registered it, a trademark is never protected completely . Therefore, you should always keep an eye on latest filed trademark applications. That is, you should keep a regular check if someone else's trademark infringes on your already registered mark or not.
Now, registration of a trademark is only the principal step in order to completely protect your mark/brand or product name. It is, then, equally important to ensure that the possible infringers keep away from your trademark/brand. And, watching the latest filed application ensures that. This helps in finding possible infringers and also preventing them from moving ahead with the grant process. This is trademark monitoring process.
A trademark monitoring process alerts you of applications by third parties that may be similar to your trademarks. Trademark monitoring makes sure that you continue to hold the rights of your mark, name or logo. Nowadays, the steps that companies, usually, follow is to first register their trademark and then get a website created or their brand discoverable online. Monitoring ensures that you can act before the brand is registered. The monitoring software detects all similar trademarks regularly and warns of possible infringements.
Trademark monitoring is a tedious process and consumes a lot of time. Every country has a trademark registry which contains records of trademark applications which are registered, pending before it which are normally called Trademark Journals. Every week on a certain day, the respective registry publishes trademark journal online
Trademark Monitoring Process- Strategy to Follow
In order to monitor your trademark, professionals that you hire come up with appropriate trademark strategies. These strategies are according to the market size of your brand/mark and your reach.
The strategy, ideally, covers all the applications of the trademark registries in order to find out conflicting applications. Usually, monitoring covers everything from words to logos or symbols. If an organization has a broad market and is working globally, it will neither be practical nor possible to look at every industry in every jurisdiction. In such cases, the experts in the field prioritize and try to secure core trademarks of the organization and cover the most important jurisdictions while ensuring security to a brand.
Global Trademark Monitoring
Global trademark monitoring process includes the monitoring of every application which is filed in all the trademark offices. Monitoring requires a constant watch on other's applications so that you do not unintentionally misuse the registered marks and so the integrity of the brand will not be affected. The major purpose of trademark monitoring is to avoid or prevent any kind of deceitful, similar or identical registration of the mark.
A similar trademark results in cutting out your brand's market. As a result of that, there are decreasing profits and possible risks of damaging brand's reputation. In order to ensure that your registered trademarks receive comprehensive protection and are not similar to those of somebody else, it is important to monitor and watch new trade mark applications for potential infringements. Trademark watching also helps you to quickly respond to applications made by third parties that might infringe upon your intellectual property rights.
As a general rule, it is quicker, less complex and expensive to take action against a third-party trademark at an early stage, especially if it is yet to be registered and the country has an opposition procedure that allows you to oppose a trade mark before it is registered. Many businesses do not have the time nor might inclination to keep a close eye on what others are doing that affect their brand. However, any business which is serious about brand protection or monitoring competitor activity should consider trade mark watching, especially given the relatively low annual costs associated with this service.
Why to Monitor Trademarks?
Following are the three main reasons of why we should monitor trademarks:
Prevent Infringement
TM monitoring allows you to oppose competing marks. That, in turn, helps to get ahead of potential trademark infringement scenarios even before we need legal action.
Brand Security
Trademark monitoring helps you stay aware of infringers and defends your brand even when litigation becomes necessary.
Avoid Lost Profits
Protect the value of your brand from termination with trademark monitoring and avoid losing revenue to infringers.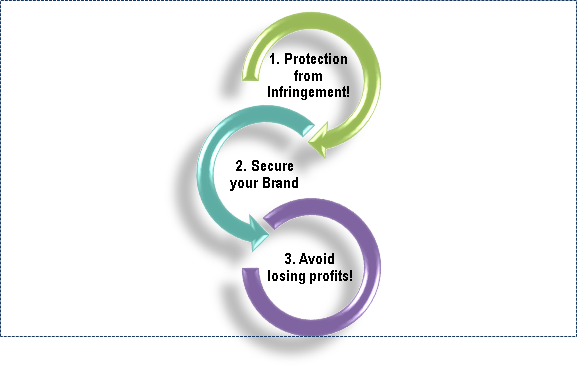 Why Choose Us?
If you are looking to protect your trademark, The Trademark Watch Company (TTWC) will help you in doing so. TTWC boasts years of experience in trademark watching so that no one misuses the brand you have built. We keep a vigilant eye on every trademark filing going on multiple countries that can impact one's brand. TTWC can help assess if there is misuse of the trademark, trade name or other trade-related assets anywhere in any jurisdiction. Our team consists of highly skilled experts with uttermost quality. We cover 92+ countries across the globe and our team has become successful in satisfying our clients.
For more information, visit The Trademark Watch Company.
Trademark Monitoring Process @ "The Trademark Watch Company"
Follow the following simple steps to let us monitor your trademark:
Choose your Monitoring Variant
Choose the search variant and add-on that is most suitable to your needs and budget.
Provide Mark Details + Delivery Options
Provide the details of the mark which you want us to monitor, any specific instructions, NICE classes and delivery preferences.
Place Your Order Securely Online
Place your selected order securely using credit / or debit card through PayPal payment gateway.
Start Receiving Misuse Check Reports in 1-4 Days
You will get your report online, via email and/or in hard-copy depending on the delivery options provided by you.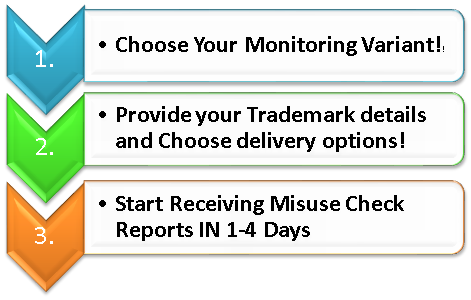 Contact us here or visit website to know more.
Other Related Articles: